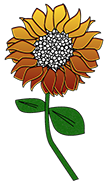 RESTAURANT
There are no recipes. Anna cooks from memory and instinct, with a pinch of this and a handful of that. Early every morning she bakes the daily bread; simple round loaves, chewy yet tender, like in the old country. And every day she starts anew, washing lettuce, making meatballs, assembling lasagna and ravioli.
Order a steak and she cuts it fresh. Order bruschetta, and that is when she starts chopping the tomato and basil.
Everything is local, except the sauce tomatoes, imported from Italy. And every ingredient must pass the test of her childhood or be rejected.
You may start your meal with Anna's signature Bocci Balls, a mixture of pork, spinach and bread, baked in a sauce of banana peppers and onions. Or taste the wedding soup, made with skinless chicken in a clear, fat-free broth that swims with tiny meatballs and carrots that push back when you bite them.
But if she served nothing else, lines would form for Anna's meat sauce. Simmered with ground beef and pork, a velvety sweetness comes from the best ingredients cooked for just the right amount of time. And marinara sauce—tomatoes, basil, garlic and fragrant olive oil—is quickly sauteed and ready in the time it takes for the spaghetti to cook. All very simple.
Location:
Anna's Cucina Rustica
118 Carolina Ave.
Vandergrift, PA 15690


© Copyright 2012 CBT Creative Consultants, Ltd